mi trabajo se desarrolla desde investigaciones personales y en territorio, a su vez explora el lenguaje a través de disciplinas como el teatro, la performance y las artes visuales.
my work operates through a combination of personal and territorial investigations and explores language through disciplines as theatre, performance and visual arts.
01. publicaciones / publications
luces blancas intermitentes -
intermittent white lights
contains
502
,
b
and
el día que ella dijo que había matado al perro agarré el auto
(the day she said she had killed the dog i grabbed the car)
rara avis editorial
(buenos aires, 2018)
el fin - the end

x premio germán rozenmacher
libros del rojas
edición cuatrilingüe (español, inglés, francés, portugués)
.
x germán rozenmacher award

rojas books
quadrilingual edition (english, french, portuguese, spanish)
(buenos aires, 2017)
02. projectos e investigaciones en territorio / territorial projects and investigations
a la mujer trabajadora - to the working woman
/ textil colonia rosal s.a.

una pieza realizada desde objetos de la antigua fábrica textil, hoy en día abandonada, trozos de paredes, registros de las trabajadoras y el reglamento interno. el punto de partida fue un apartado del mismo, el único expresado en femenino (por tratarse de maternidad) para escribir una carta expresando un deseo hacia la organización conjunta de las mujeres trabajadoras.
.
a piece made up of fragments of an abandoned textile factory: broken pieces of wall combined with cuttings from regulations and worker's records. i took a section of the regulations, the only part that addressed female workers (related to maternity), as a starting point for a letter expressing the desire for the communal organization of working women.

konvent zero
(barcelona, 2019)
líneas de fuga - vanishing points


dispositivo escénico que plantea la convergencia de dos dramaturgias que habitan territorios geográficos. a través de nuestra cotidianidad, cartografíamos dos visiones particulares e íntimas, bajo la inquietud de lo que es para nosotras ser mujeres jóvenes en estos espacios que atravesamos y por los cuales somos atravesadas.
escrita junto a
gabriela román fuentes
.
performance that sets out the convergence of two dramaturgies dwelling geographic territories. through our daily life we create a particular and intimate cartography. we aim to generate a space with others to share our livings as foreigners women.
written with
gabriela roman fuentes
casa de cultura de la universidad autónoma del estado mexicano en tlalpan
(ciudad de méxico, 2017)
dirección: fiorella di giacomi
intérpretes: clementine domptail, german de diego, leticia casanova
música: mattéo laverdure
producción: marte - matienzo artes escénicas y el vaivén theatre

maison de l´argentine
(parís, 2019)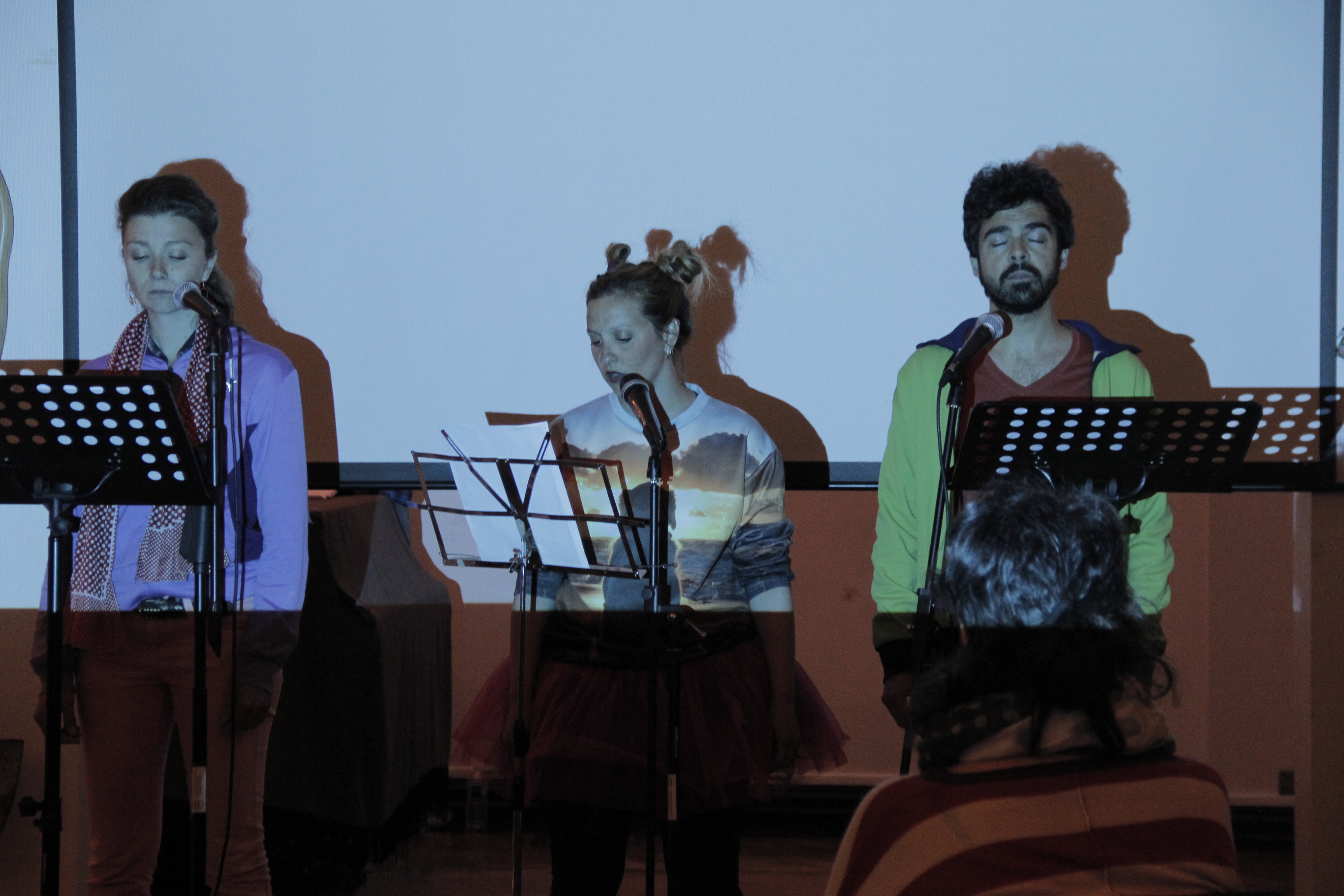 underdogs / los débiles

en una tierra al sur del mundo, manuela llega a la presidencia gracias a un acuerdo con su partido opositor. detrás de ella horacio y esteban construyen su figura pública. frente a ella, los débiles. entre deseos y manifestaciones, manuela intentará sostener más de doscientos años de promesas imposibles.
escrita dentro del programa de talleres en américa latina del royal court theatre.
.
a theatre play made of quotes of speeches by argentinian presidents.
written in the programme of dramaturgy workshops in latin america run by london's royal court theatre.

ciclo tintas frescas, teatro nacional cervantes
(buenos aires - 2019)

before the seas rise

3

and let the seas rise
and the water
overtake us
so that we can't breathe
and the glowing colours
greet us
and make us welcome

it is not the sea
my love
it is ourselves
it is not the sea
it is ourselves.

(trad. ben osborn)
queremos ser nuestrxs propixs líderes

somos racistas
somos clasistas
somos xenófobxs

sólo conocemos una forma de hacer las cosas
nos relacionamos a través del dinero

desconfiamos de las personas lindas
desconfiamos de las personas exitosas
desconfiamos de las personas que están enamoradas

festival primavera dei teatri
(castrovillari, 2019)
vogliamo essere padroni di noi stesse

siamo razzist*
siamo classist*
siamo xenofob*

conosciamo un modo solo per fare le cose
ci relazioniamo attraverso i soldi

diffidiamo delle persone belle
diffidiamo delle persone di successo
diffidiamo delle persone innamorate

(trad. tatjiana motta)
b

mención ix premio germán rozenmacher
.
honorary mention - ix german rozenmacher price

teatro casa de la paz
dirección e interpretación: isabel toledo
(ciudad de méxico - 2017)

club cultural matienzo
dirección: nicolás lodigiani
intérprete: telma crisanti
(buenos aires, 2017)

área 51
lectura con música de ben osborn
(xalapa, 2019)

I

estoy sola.
en algún lugar en una ruta igual de principio a fin.
eace días que camino.
salí cuando todavía hacía frío y el otoño se alejaba.
shora ya volvieron las flores.
campo a los costados. adelante. atrás.
sigo parada en la ruta sin saber a dónde ir.
502


dirección: liliana andrea cuervo y valeria fabbri
(ciudad de méxico - 2019)
tejiendo redes
casa de cultura de la universidad autónoma del estado de méxico en tlalpan
(ciudad de méxico, 2019)
04. encuentros de escritura / writing gatherings
los encuentros de escritura son espacios sensibles para pensar y reflexionar sobre un territorio en conjunto, puede ser personal o común. buscamos generar relatos de estos territorios imaginando una narrativa situada orientada a construir estructuras específicas de acuerdo al material con el que contamos. esperamos construir hipótesis posibles sobre estos territorios partiendo de las problemáticas que presenta la geografía, su estructura formal, sus dinámicas internas, los cuerpos y la información que tenemos disponible para encontrar la posibilidad de un mapa singular, independiente y sensible.
.
the writing gatherings are sensitive spaces where we think and reflect on a territory together whether is personal or a common one. we aim to generate stories from these territories imagining a specific narrative. the starting point is to imagine possible hypotheses based on the issues a land shows us, its formal structure, inner dynamics and all possible information available in order to build the possibility of another map, an independent and sensitive one.

x jornadas de historia, arte y política de la facultad de artes (tandil, 2019) maison de l'argentine (paris, 2019) we are todos (ciudad de méxico, 2019) el baúl de las palabras (san cristóbal, 2019) área 51 (xalapa, 2019) librería lata peinada (barcelona, 2019) instituto nacional de artes escénicas de uruguay (montevideo, 2019) club cultural matienzo (buenos aires, 2019) salvadora editora en el museo zorrilla (montevideo, 2018) women playwrights international conference (santiago de chile, 2018) teatro casa de la paz (ciudad de méxico, 2017)

Giuliana Kiersz nació en Buenos Aires, Argentina, en 1991. Realiza procesos de escritura desde investigaciones personales y en territorio. Formada como dramaturga en la Escuela Metropolitana de Arte Dramático, realizó residencias artísticas en el Festival Primavera Dei Teatri en Italia, Konvent Zero en España, el Instituto Nacional de Artes Escénicas de Uruguay, el Festival Internacional de Literatura de Buenos Aires, la Casa de Cultura de la Universidad Autónoma del Estado de México en Tlalpan y fue invitada al Programa de talleres de dramaturgia en Latinoamérica del Royal Court Theatre donde escribió "Underdogs - Los débiles", presentada en Tintas Frescas, ciclo del Teatro Nacional Cervantes. Su obra El fin obtuvo el X Premio Germán Rozenmacher y fue producida por el Festival Internacional de Buenos Aires en 2019; Isabel I, el tercer premio en el XV Concurso Nacional de Dramaturgia del Instituto Nacional de Teatro, cuya editorial la publicó en 2016; y B, una mención en el IX Premio Germán Rozenmacher y fue publicada por Libros Drama. Sus textos fueron interpretados en Argentina, Francia y México. El libro "Luces blancas intermitentes" (2018), publicado por Rara Avis Editorial, contiene las obras "502", "B", y "El día que ella dijo que había matado al perro agarré el auto". Su último proyecto "Xalapa, un museo para el futuro" fue realizada junto a la compañía titular de la Universidad Veracruzana en México a partir de un proceso de investigación sobre esa misma ciudad. En 2018 fue becada por la Secretaría de Cultura de la Nación Argentina y el Fondo Metropolitano de la Cultura, las Artes y las Ciencias para realizar "Manifestaciones", un proyecto de investigación y creación donde explora las relaciones entre manifestaciones sociales y manifestaciones artísticas en México. Durante 2020 se encuentra en Akademie Schloss Solitude con una becas de literatura realizando un proyecto sobre fronteras.
Giuliana Kiersz was born in Buenos Aires, Argentina, in 1991. Her writing operates through a combination of personal and territorial investigations. She trained as a dramaturg in the Metropolitan School of Dramatic Arts in Buenos Aires, graduating in 2012, and has undertaken artistic residencies in Italy's festival Primavera dei Teatri, Spain's Konvent Zero, Uruguay's National Institute of Scenic Arts, the Buenos Aires International Literature Festival and the Cultural Centre of the Autonomous Mexican State University in Tlalpan. She was invited onto the programme of dramaturgy workshops in Latin America run by London's Royal Court Theatre, where she wrote "Underdogs / Los débiles"; this was presented in 2019 in the "Fresh inks" programme at the National Cervantes Theatre in Buenos Aires. Her work "El fin" (The end) won first place in the X German Rozenmacher Prize for new dramaturgy and was produced by the Buenos Aires International Festival in 2019. In 2013 "Isabel I" received third prize in the National Theatre Institute's 15th National Dramaturgy Competition, whose editorial published the work in 2014. Her texts have been performed in Argentina, France and Mexico. The book "Luces blancas intermitentes" (Intermittent white lights) (2018), published by Rara Avis Editorial, contains her works "502", "B" and "El día que ella dijo que había matado al perro agarré el auto" (The day she said she had killed the dog I grabbed the car). Her last project "Xalapa, un museo para el futuro" (Xalapa, a museum for the future) was created theatre company of Veracruz University in Mexico from an investigation of this city. In 2018 she received a grant from the Ministry of Culture of Argentina and the Metropolitan Fund for Culture, Art and Science to create "Manifestaciones" (Demonstrations), an investigative and creative project exploring the relationships between political and artistic demonstrations in Mexico. In 2020 she is at Akademie Schloss Solitude the deveoping a project about borders with a literature fellowship.